Track and Field with Southern Sharks
Development Academy
The Southern Athletics Development Academy aims to provide a fun, safe environment for event specific training of all athletic events for athletes aged 10 and above from local Little Athletics centres and for school athletes looking to try track and field for the first time or to prepare for their school and district athletics carnivals. By creating an exciting age-appropriate training program, Southern Athletic Club will improve athletes' technical skills and performance.
More from Southern Athletic Club listing in Wellness Adelaide Business Directory
Structure
The Development Academy will run for the remainder of the 2016-17 season on Wednesday nights from 4:30-5:30 at Reynella East College with the following event groups available: middle/ long distance, sprints, throws, high jump and horizontal jumps. Depending on demand, a flexibility and conditioning group may also be added.
Costs
Athletes can attend two Development Academy training sessions for free on a come-and-try basis. Thereafter, there will be a charge of $25 per athlete each month payable at the start of each month (or $10 per session on a pay-as-you-go basis) to contribute to venue hire costs and coaches' expenses.  Athletes are encouraged to purchase a Southerns singlet or T-shirt to wear whilst training to foster a sense of team and identity.
All enquiries to Jason on info@southernac.org.au or 0401 033 297.
Coaches
Southern AC has assembled a panel of coaches that is an exciting mix of experienced coaching heads with younger athlete coaches who will grow and develop their coaching skills whilst the Academy develops.  We are also looking to bring on board former athletes or parents of athletes from our local Little Athletics centres to become involved in coaching. Southern Athletic Club will support them in gaining coaching accreditation while they work with existing coaches and are mentored by Jason Stevens.
Academy Director/ Mentor Coach – Jason Stevens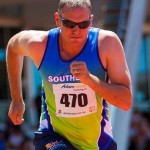 IAAF level 3 Sprint, Hurdle and Relays Coach
AA level 2 Advanced Middle/Long Distance and Throws Coach
AA level 2 Intermediate Recreational Running Coach
IAAF Kids Athletics Coach
Jason is a life Member of Southern AC and has been part of the club since joining in 1990. During his competition career Jason started out as a junior 400-1500m runner who competed and trained mainly to maintain his fitness for Basketball. At 19 Jason gave away basketball and started training seriously for the decathlon under one of the state most experienced and qualified coaches Barb Stephens. Over the next decade Jason won numerous State titles including 4 Open Decathlon tittles and represented the state at national level. Jason was also fortunate to compete and train in New Zealand and Germany. The last 10 years Jason has been coaching at Southern AC (8 as head coach) as well as being a state team Coach/ manager and Athletics SAs TTP state throws coach
Middle/Long Distance Coach – Matt Evans
AA level 2 Intermediate Recreational Running Coach
Matt is a masters athlete who races 800m on the track, marathons on the road and everything in between.  He is an Athletics Australia accredited level 2 recreational running coach, heading up Southern Athletic Club's Friday Night Run Club, and is also experienced in coaching junior middle distance track and cross country runners.  "Running is a major part of my life.  I coach to share my knowledge and experience and I get enormous satisfaction from helping runners to enjoy a fit and active lifestyle, improve their running performance and achieve their goals."
Sprints Coach – Hayden Moore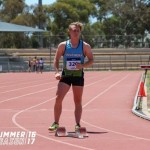 Hayden is an accomplished sprinter and pole vaulter and is studying for his level 1 coaching accreditation
Hayden's athletics journey began at the age of 13 when he started athletics training. That training led into a year of Little Athletics then he also started training with Southern Sharks. Hayden is a sprinter and Pole Vaulter who has represented the state in both of these event groups at National level. He also has a personal training accreditation. Hayden says 'After i started training with sharks my times begun dropping and Jason encouraged me to take the group for warmups and this made me realise that I wanted to be a coach'.
Throws Coach – Mark Secomb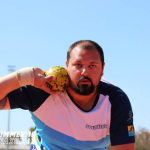 AA Level 1 Beginner coach;  Mark will be doing his Level 2 Club Coach accreditation this year
Mark is the current throws coach at Southern Athletic Club. He has been completing in athletics for 21 years and has been coaching for the last 4 years at both southern AC and South Coast LAC. Mark joined the Southern Sharks in 2006 when he wanted to learn more about the techniques of the throwing events. Mark says 'I enjoy coaching anyone who wants to learn and better their own technique.'
High Jump Coach – Morgan Blackwell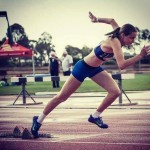 Morgan is an accomplished high jumper and is studying for her level 1 coaching accreditation
Morgan started little athletics when she was 8 years old because of a love for being active. She competed up to U17′s which gave her a great understanding and appreciation for all event groups. Morgan joined the Southern Sharks in 2012 which allowed her to compete against other athletes of all ages and abilities each weekend. As well as competing Morgan has also become interested in coaching and is currently coaching high jump with the Sharks as well as high school volleyball. Morgan is currently studying a bachelor of education and health science with a goal of becoming a physical education teacher.
Horizontal Jumps Coach – Trish McHendrie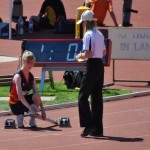 AA Level 2 Advanced Jumps Coach
Trish is an all-round athlete, coach & official.  Having been involved with Little, Senior & Masters athletes for over 15 years. I am a level two Advanced ATFCA & AA Coach in Jumps & Sprints and have coached many athletes to State & National levels. I have competed as a Masters athlete in Long & Triple Jump and won gold in Triple Jump at a National Championships. Jumping has been my passion for many years. I currently teach Schools athletic programs to promote our sport. I love watching kids do their best at events and particular the younger athletes when they give you a great big smile when they succeed. I love coaching and watching athletes achieve their best.